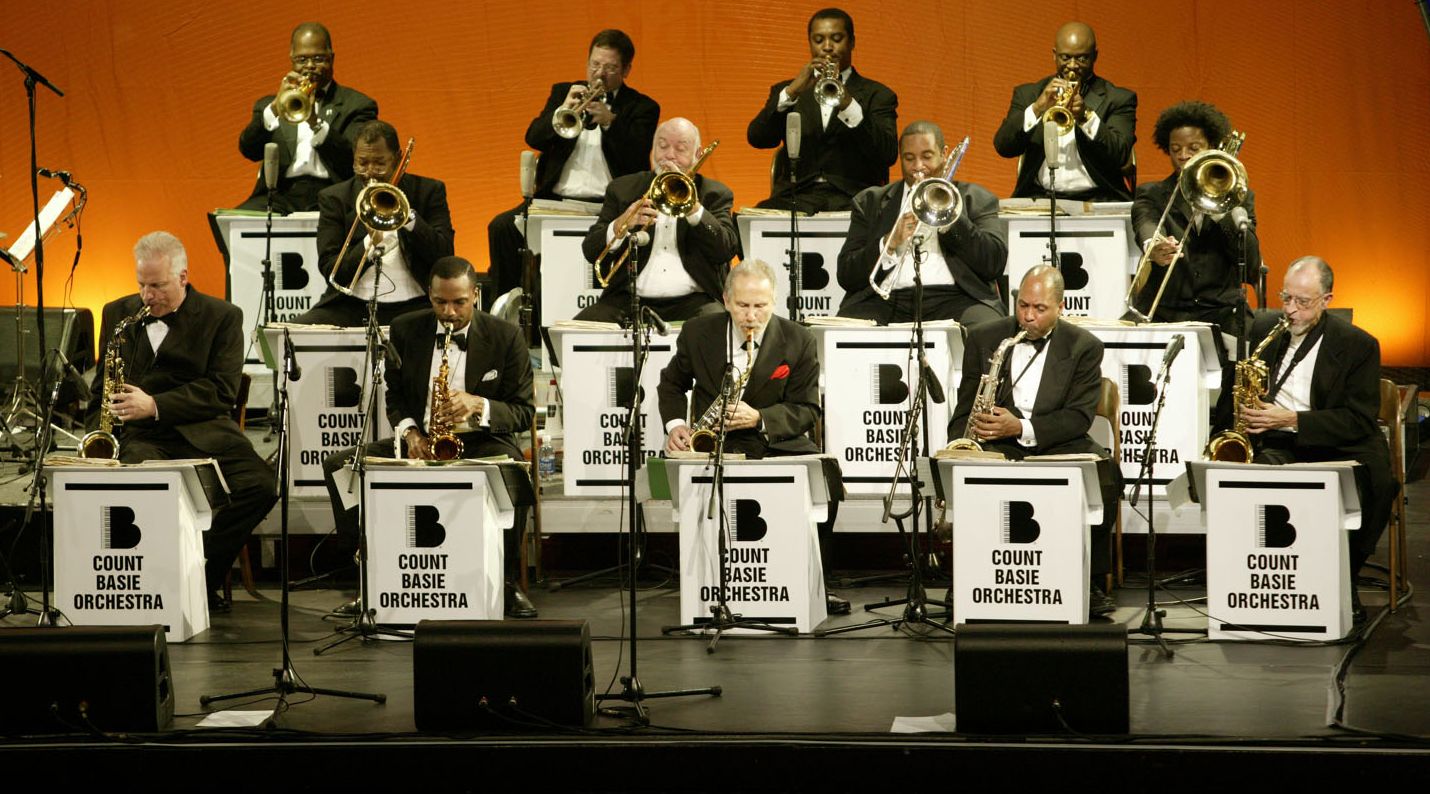 The Count Basie Orchestra
Sun, 07. Nov 2004, 9.45 PM | Big Band - Big Time
William Basie, born 1904, who later boldly called himself «Count» and thus raised himself to nobility, invented his music over seventy years ago. One does not hear that, however. Its unbelievable lightness, the laid-back coolness paired with high precision, Basie's maxim where less is almost always more, and the merciless swing, – all that ensnares as always. And add to all that a highly decorated vocal group of the quality of the «New York Voices», it gets the master to smile over yonder, push his captain's hat back on his forehead, and lean back to bop along with a foot. And the audience had the same experience!
Beat Blaser
Line Up
| Artist | Instrument |
| --- | --- |
| Bill Hughes | Conductor, Trombones |
| Michael P. Williams | Trumpet |
| William "Scotty" Barnhart | Trumpet |
| Shawn C. Edmonds | Trumpet |
| Endre Rice | Trumpet |
| Clarence Banks | Trombone |
| Alvin Walker | Trombone |
| David Keim | Trombone |
| Barry Cooper | Trombone |
| John Williams | Bass-Saxophones |
| Doug Lawrence | Tenor Saxophone |
| Doug Miller | Tenor Saxophone |
| John Kelson | Alto Saxophone |
| Marshall McDonald | Alto Saxophone |
| Butch Miles | Drums, Rhythm Section |
| James Leary | Bass, Rhythm Section |
| Will Matthews | Guitar, Rhythm Section |
| Tony Suggs | Piano, Rhythm Section |
| Melba Joyce | Vocalist |
Thu, 08. Nov 2001, 9.45 PM | Big Band & Big Voice
For more than eighty years Count Basie has been synonymous for bouncy swing, crisp and razor-sharp brass sets, absolute relaxedness at greatest possible precision. The Count is no longer alive, but his spirit still floats over the band, looks over the musicians' shoulders. And when Diane Schuur, the great singer, joined the big band with her trio after their opening performance, it was easy to imagine him smilingly bobbing on the other side. It was a relaxed evening for fans of stylish jazz.
Beat Blaser
Wed, 28. Oct 1992, 8 PM | Swing & Big Band-Sound
All of the great big band leaders have something in common with classical composers like Mozart, Beethoven, Bach & Co., because their music lives on in concert halls long after they have passed on. Count Basie went down in history as one of the greatest of the great since he knew how to get a large group of musicians to swing with the relaxed groove of a small band. On this evening, the band was led by Frank Foster, Count Basie's friend, composer and soloist (tenor sax) for many years. It was an evening of jazz and swing of the finest, unfortunately seldom heard in Basel.