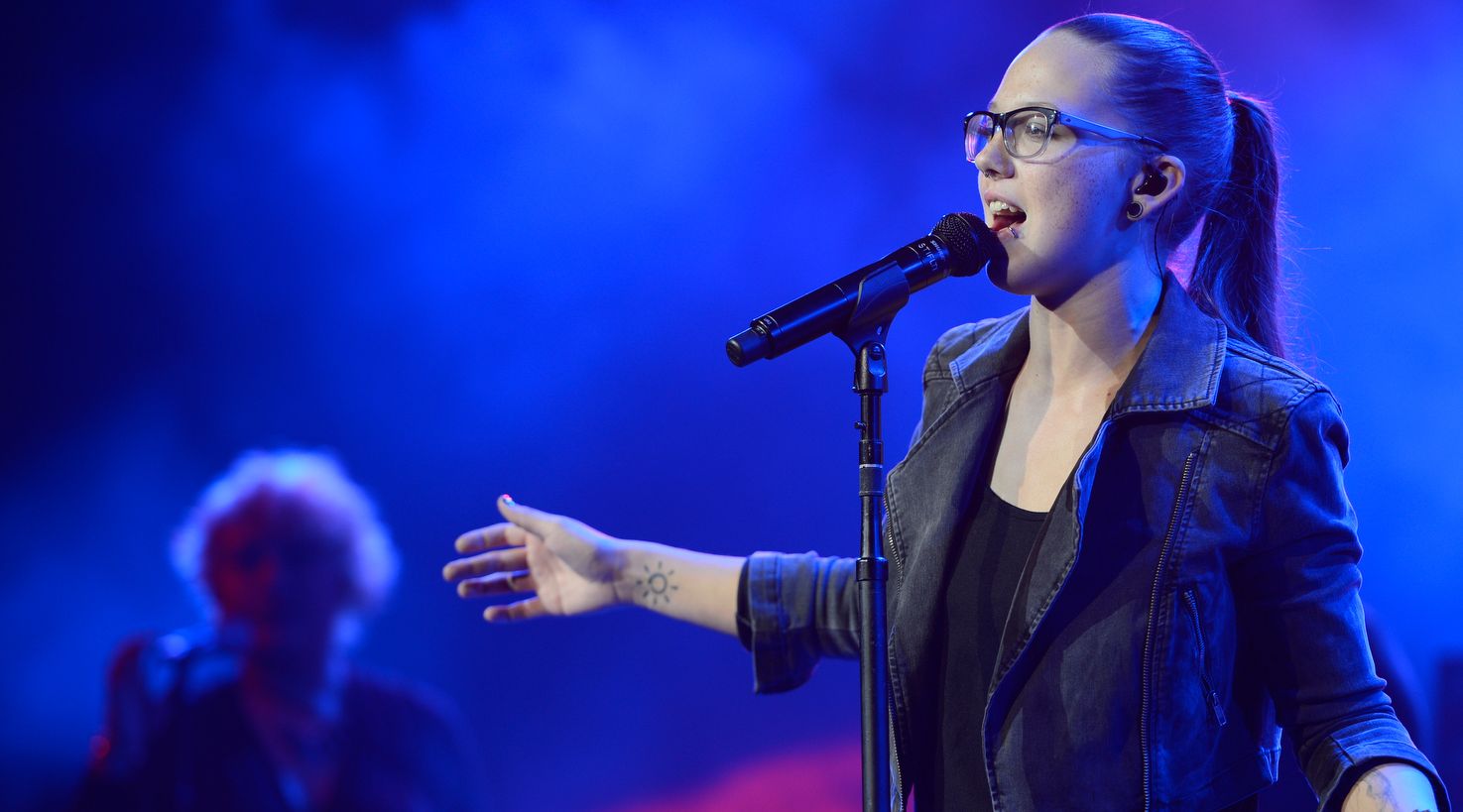 Fri, 17. Apr 2020, 6 PM | Baloise Session @home
Studio von Stefanie Heinzmann
Let yourself be carried away by another Baloise Session @home. Charismatic singer Stefanie Heinzmann from the canton of Valais brings soul-pop, sunshine and love to your living room.
Line Up
| Artist | Instrument |
| --- | --- |
| Stefanie Heinzmann | Vocals |
| Steffen Graef | Guitar, Piano |
Sun, 04. Nov 2012, 8 PM | Black Rock - White Soul
In honour of the 35th anniversary of his solo debut, Vincent Fournier has brought his alter ego Alice Cooper back to life. He shows the world that 70s shock rock is still the best way to put today's worst nightmares to music. But maybe things aren't really that bad? Joyful Stefanie Heinzmann from Valais, a great horror film fan, gives powerful and convincing proof of her love of the here and now with her soulful pop. Generation gap? No way. Both artists carefully observe our daily lives, albeit differently: one in a costume, the other in glasses.
Christian Hug
Line Up
| Artist | Instrument |
| --- | --- |
| Stefanie Heinzmann | Lead Vocals |
| Patrick Fa | Drums |
| Claudio Heinzmann | Guitar |
| Martin Ziaja | Bass |
| Moritz Stahl | Guitar |
| Christoph Siegenthaler | Guitar, Piano |
| Ephraim Salzmann | Percussion |
| Rachel Scharnberg | Backing Vocals |
| Cheri Houtmann | Backing Vocals |
Sun, 08. Nov 2009, 8 PM | Tiger Power
He has been called the «Welsh Tiger», but he is also known as the white soul man par excellence: Tom Jones. His love for African-American music links him to the California funk band Tower of Power – and to the young Stefanie Heinzmann from Valais. Major emotions and razor-sharp rhythms are guaranteed. In the beat age, Tom Jones was Great Britain's first «Soulman» – an explosive performer, who was compared to Wilson Pickett or Solomon Burke. Ten years later, it was the Tower of Power, which was one of the first white bands to produce credible, first class funk. And now, it is Swiss singer Stefanie Heinzmann who is inspired by the spirit of soul.
Martin Schäfer
With the generous support of «Friends of the BALOISE SESSION»
Line Up
| Artist | Instrument |
| --- | --- |
| Stefanie Heinzmann#4 | Vocals |
| Emilio Castillo | Leader Band |
| Stephen ("Doc") Kupka | Bari-Saxophone |
| Francis Rocco Prestia | Bass |
| John Garibaldi | Drums |
| Larry Braggs | Lead Vocals |
| Roger Smith | Keyboard |
| Tom E. Politzer | Alto Saxophone |
| Adolfo Acosta | Trumpet |
| Michael Gillette | Lead Trumpet |
| Mark Harper | Guitar |