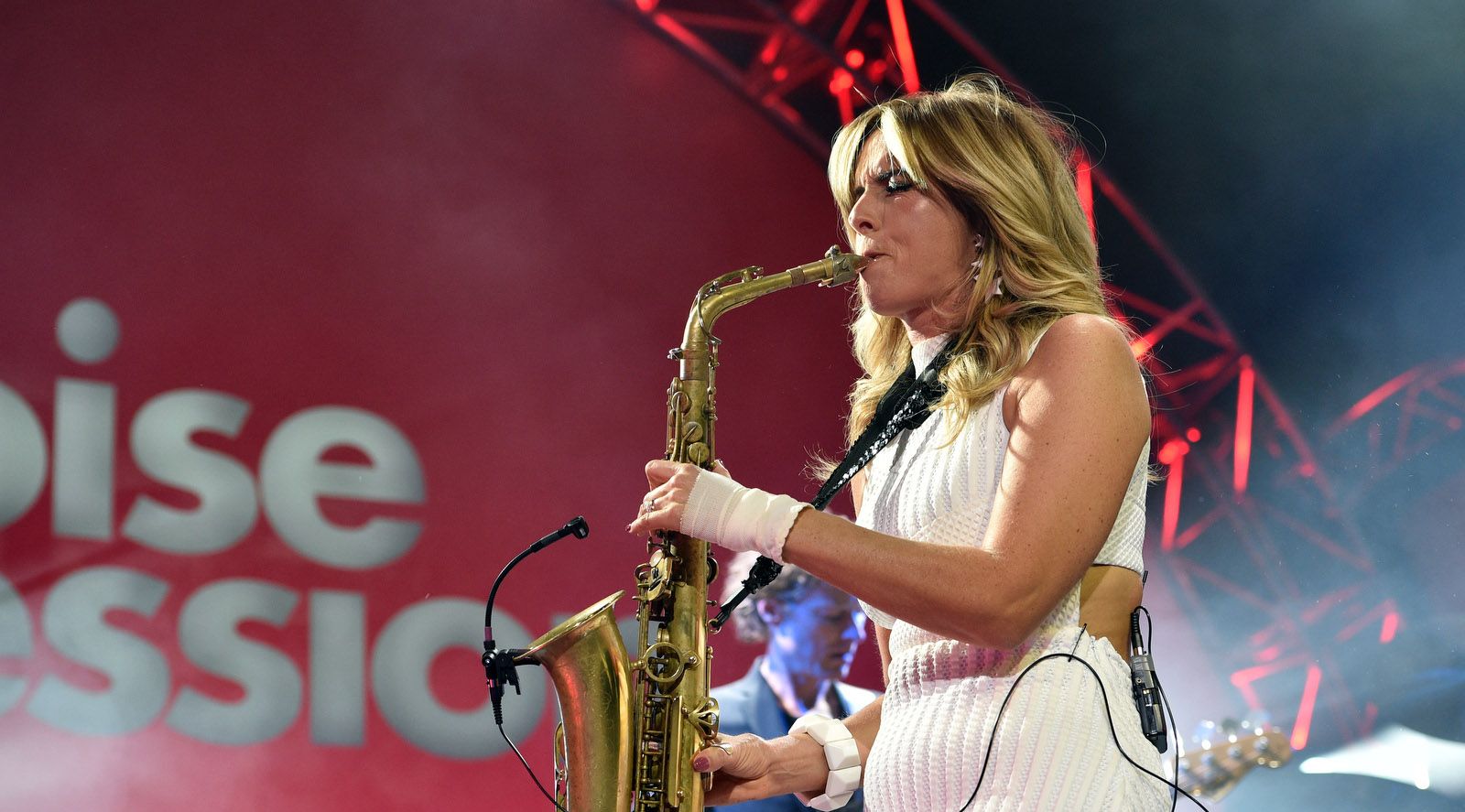 Tue, 03. Nov 2015, 8 PM | Hot Rhythms
Funk is an international language. Whether you tagged along in the parades in New Orleans as a little nipper with your trombone, or listened to your father practicing in the living room in Amsterdam: If you learned a language as a child, you really know it. This is definitely true for Trombone Shorty, trombone and trumpet player from the Crescent City and also for the sax lady Candy Dulfer from picturesque Amsterdam. When they hit the stage, they rock the house with a funky blues groove, chairs and tables are pushed aside and bodies begin to move to the groove!
Beat Blaser
Line Up
| Artist | Instrument |
| --- | --- |
| Candy Dulfer | Vocals, Saxophone |
| Ulco Bed | Guitar |
| Manuel Hugas | Bass |
| Nicky Loman | Drums |
| Ricardo Burgust | Vocals |
| Dillon Lewis | MC, DJ |
Mon, 04. Nov 2002, 9.45 PM | New Sounds
The guitarist, singer, composer and producer, who is recognized as a creative genius worldwide, Dave Stewart (formerly Eurythmics) gathered together artists published by his provocative independent label «Artist Network» for an exclusive event at our festival.
After the opening program of Hawskley Workmann, who was frenetically praised at the Paleo festival 2002, the very diverse second set was carried by Dave Stewart's band «Da Univerzal Playaz» with Gary «Mudbone» Cooper (formerly P-Funk) and went from pop to hip hop and reggae. The young Jamaican singer Nasz Seid also participated. Joining them, at spacious intervals, the then 17-year-old guitar wonder named Joanne Shaw Taylor, the saxophonist Candy Dulfer as well as the world star Jimmy Cliff. A summit for which even longer travel times were worth it.
Lukas Müller
Mon, 05. Nov 2001, 8 PM | Ultimate Funk & Groove
From another generation stems Maceo Parker, who complemented Candy Dulfer in an exciting manner. The African-American saxophonist, who toured with James Brown for 20 years («Papa's Got A Brand New Bag»), is specialized in groovy sounds and hot funk. During this concert, with an open area among the audience seats, the floor was about to smoke.
Lukas Müller
Fri, 18. Aug 2000, 9 PM | Warm-Up
Mon, 28. Jun 1999, 8.30 PM | Warm-Up